The ideal solution for your events
"Let food be thy medicine and medicine be thy food" - Hippocrates
Quality in the choice of raw materials is our priority. Many of our products are Zero Km Food, coming from local producers, breeders and farmers. Genuineness, freshness and food safety are the pillars of our cuisine.


Customer care. We try to satisfy every possible request. Personalised children's menus, attention to food allergies and intolerances are a guarantee for a serene and accurate dining experience. Vegetarian and vegan menus are available to grant you every wish.


30 years of passion, commitment and sacrifice. The unconditional love for cooking is expressed in every single course, from the tasty starters to the delicious desserts, an overwhelming sensory experience, unique in its kind.
Available for up to a maximum of 50 people. Elegant and stylish, suitable for romantic gatherings and small family and business meetings.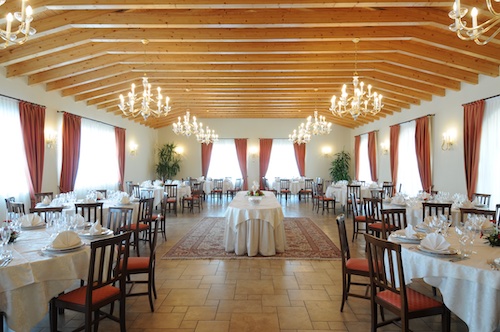 Can host up to 200 people. Bright, warm and comfortable. The 8 Murano glass chandeliers and the wooden ceiling recall the elegant and refined style that characterises the entire venue. The room is made available and suitably set up for all kinds of events, such as weddings, birthday parties, anniversaries and business dinners.


Both the dining and the ceremony room are equipped with air conditioning and heating.
In the summer season it is possible to enjoy the restaurant's dishes under the large portico overlooking the large garden. For banquets, the outdoor area is used as a location to receive guests and enjoy the welcome drink.